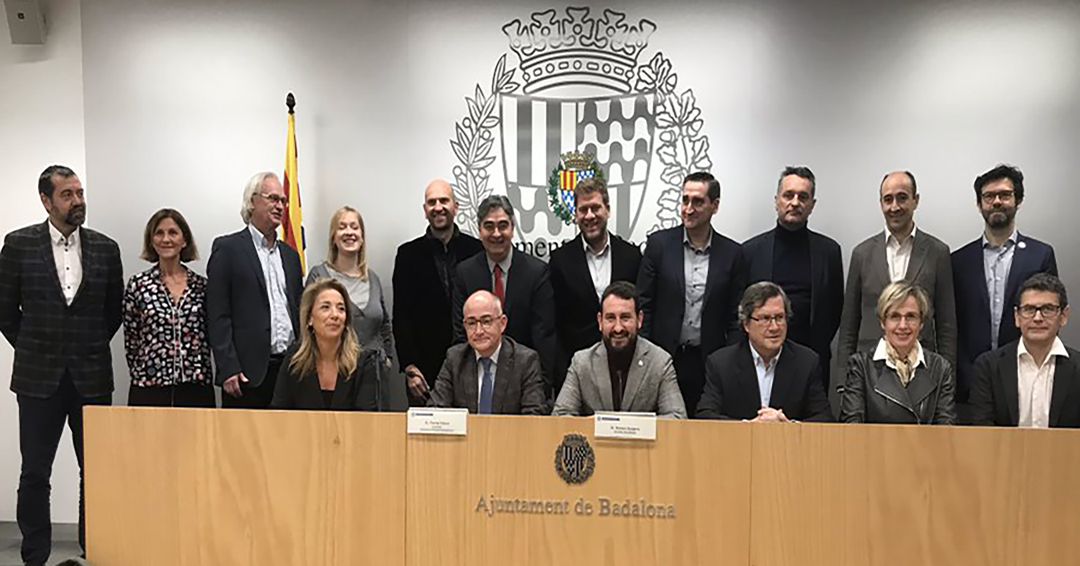 Badalona, 31 de gener de 2020 – Badalona City Council and Restarting Badalona, ​​a private non-profit association that brings together experts in training, research, innovation and entrepreneurship, have made a joint act to present the new project with a vocation to make a city and collaborate for to foster the development and consolidation of an innovative ecosystem and a campus of knowledge in Badalona.
Restarting Badalona makes available to the city all the relational expertise and network with the aim of promoting the reactivation of economic activity areas and infiltrating the innovative gene in all areas of the city.
Ruben Guijarro, accidental mayor of the Badalona City Council, he claims that "place Badalona in the place it deserves", "the time is now, Badalona must be a city that is a pole of attraction for talent and innovation and is an attractive city. " He proposes "to vindicate our role of capital of the North Barcelones, to be the motor axis the axis of the Besòs". He mentions that "the fact that there is an entity like restarting that comes to put its talent and its granite into this impulse of the city is welcome".
Ferran Falcó, president of the entity, explained that the objectives of the association are "… to try to carry out activities and lead initiatives in relation to the importance of innovation, the value that search has, new ways and the need for training, entrepreneurship, the value of entrepreneurship, the need to retain Badalonian talent at home, the need to attract non-Badalonian talent back home. So all this in the context of this great capital that is Barcelona of this great city that is Barcelona that Badalona has a role to play. "
Oriol Estrada, vice-president of the association, expsossa "has a very important asset in the city that is the Can Ruti Campus.", "Brings together more than 12 institutions all of them with national and international prestige that forms a pole of knowledge as few there are in Spain but also with international echo that brings together more than 700 researchers. " He adds that "the future world revolution 4.0 is the interconnected world, the hyperinformed world, the world of information knowledge the world of technology but in the vertical health, it is also a world of something very important that is humanization"
Marius Rubiralta, Honorary President of Restarting Badalona, ​​emphasizes, "Europe the policy being pursued and also made by the Generalitat through the National Pact for the Knowledge Society, is that in addition to the clear policies of research, training and innovation there is a third axis which has become increasingly important now is the role of regions and cities as a key element of knowledge. " It explains "the northern Barcelones has had a complex to be the part that has had to work to redo the city.", "We have one of the four best biomedical environments in Catalonia and therefore among the 10 best Spanish centers".