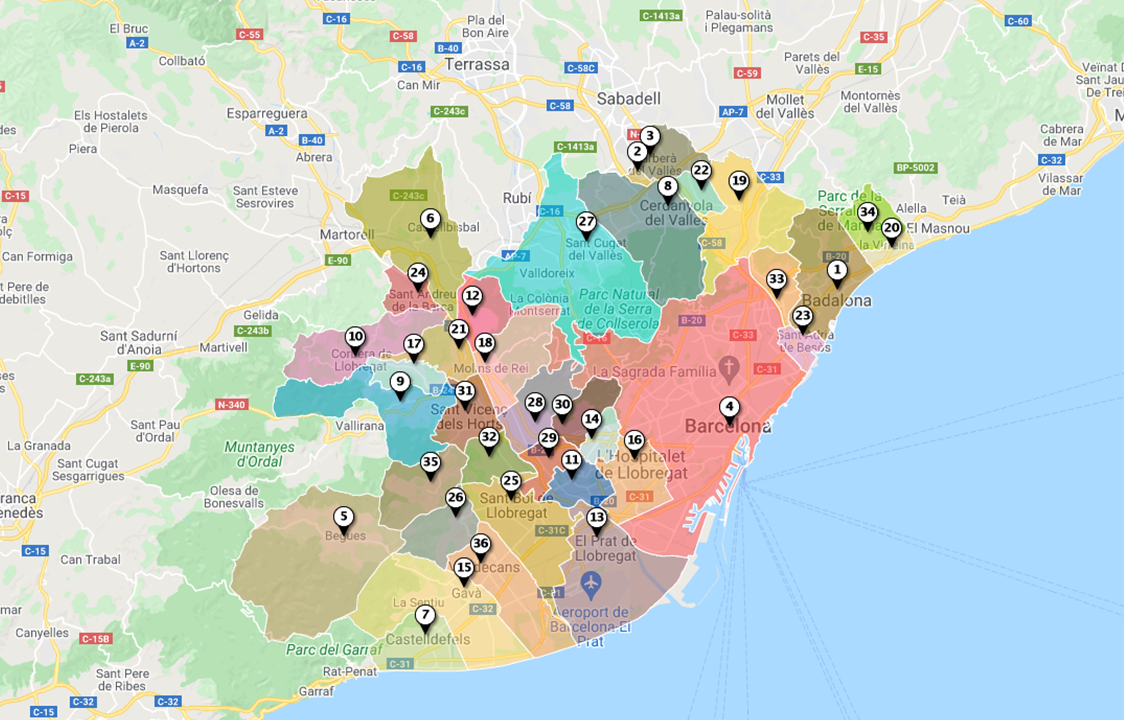 You, like me, are citizens of the big city. From metropolitan Barcelona. From any of the cities that crown it. You, like me, know the problems we have in our cities. Problems that derive from the differences between our neighborhoods, from the differences between our income levels.
The debate on the (outdated) instrument of the 1976 General Metropolitan Plan for urban planning, and on the need to make a new one, is recurrent. It is kind of a mystery (or maybe not so much) why, if everyone thinks something is not useful, nobody wants to change it for a new one. The truth is that that PGM no longer exists and has undergone thousands of modifications. We have made it new, little by little.
Thus, continuing to discuss whether a new General Metropolitan Plan is necessary has become a sterile debate, because today our municipalities are no longer those of 1976. They neither start from scratch nor in many cases are they willing to give up the capacity to govern themselves. , especially since most of them have done a very good job. I have the impression that only those who want to write it want a new Plan, but that municipalities prefer to continue designing their future with their teams. Without this will, which I cannot see, raising great debates ends up frustrating expectations.
The dynamics of driving urban planning is consolidated among municipalities and constitutes a fundamental feature
This fact, as well as the good work that many local administrations can exhibit, legitimizes the preference to maintain the leadership of urban planning at the local scale. And there is the regret of opening decision processes that can get stuck or damage institutional relationships that, with more or less noise, are solid. It must also be remembered that many democratic city councils inherited most of the urban pitafis that we have in the territory and that this fact has often forced them to undertake urban planning actions to provide them with more coherence and better services. The dynamics of piloting urban planning is consolidated among the municipalities and constitutes a fundamental feature.
That said, the governance of this "great city" is a permanent challenge and a "contract" that must be renewed. It is because of the need to adapt the territory to climate change, because of the human density that inhabits it, because of the differences – too much – that exist between our neighborhoods. And here, and at this point, is where we have to stop to make amends for those who wrote in the 2000s that cities should compete with each other. Perhaps for a time it was true, but today this can no longer be so. First, because all of them already have the minimums much more than that – services that give quality to their citizens and, second, because today the planetary challenges force us to demand that they cooperate. Beyond the metropolitan area, we do not need a great authority opposed to the government of the country or a capital that disposes and imposes on the rest of the cities that are its crown. We read a few days ago that the mayors of Sant Adrià de Besòs and Badalona, ​​with the mayoress of Santa Coloma de Gramenet, raised their voices and made explicit a willingness to cooperate to be heard, and a lament regarding the role that Barcelona reserved for itself .
We do not need a great authority opposed to the government of the country or a capital that disposes and imposes on the rest of the cities that are its crown
It is required that the big city, those that are its crown and the government of the country cooperate instead of competing. It is required that we propose a country alliance between the rural and urban world. And it is imperative that we flee from the "Mexico City" model to make the capital a pleasant place shared by all the citizens of Catalonia, and not a mega-capital that is opposed to the hinterland. What I would like is a country with capital, filled with crowns that do not need to be set against it. And I would like, as a Badalonian, to also experience Barcelona as if it were my own city. The more important Barcelona is, the more important the cities around it will be, and vice versa. Build a great capital with shared challenges, respecting your own local identities. This would be the formula that we should renew.
So that this necessary cooperation between cities and government, in some matters, has been done. And it has been done quite well. Public transport is one of the successful examples, as is the health or education network. We are challenged, however, to make a prosperous, digital and green metropolis. And that happens by making decisions that keep you away from speculation, but that bring you closer to the incentive of economic activity and a first-rate public investment to make it as self-sufficient as possible. We need urban planning, not tactical, but practical. We cannot accept, it is not normal and above all it is not good, that putting planning into practice can take a decade, when it goes well. It cannot happen, and it does happen, that we have so many empty lots of real estate developers that have passed away, as empty public lots that should have been facilities that have not been built, while municipalities have – some more than others – sufficient funding to raise them . What there is is to review what has not been done and reprogram them to adapt them to new needs, and do so by setting up an alliance with the private world, which is a winner for all citizens. In short, it is about acting with the mentality of those who occupied the town councils or the government of the Generalitat with the democratic resumption: with ambition to improve every corner, with passion for work and with the will to build prosperity to every inch of territory.
Ferran Falcó, president of the Restarting Badalona association