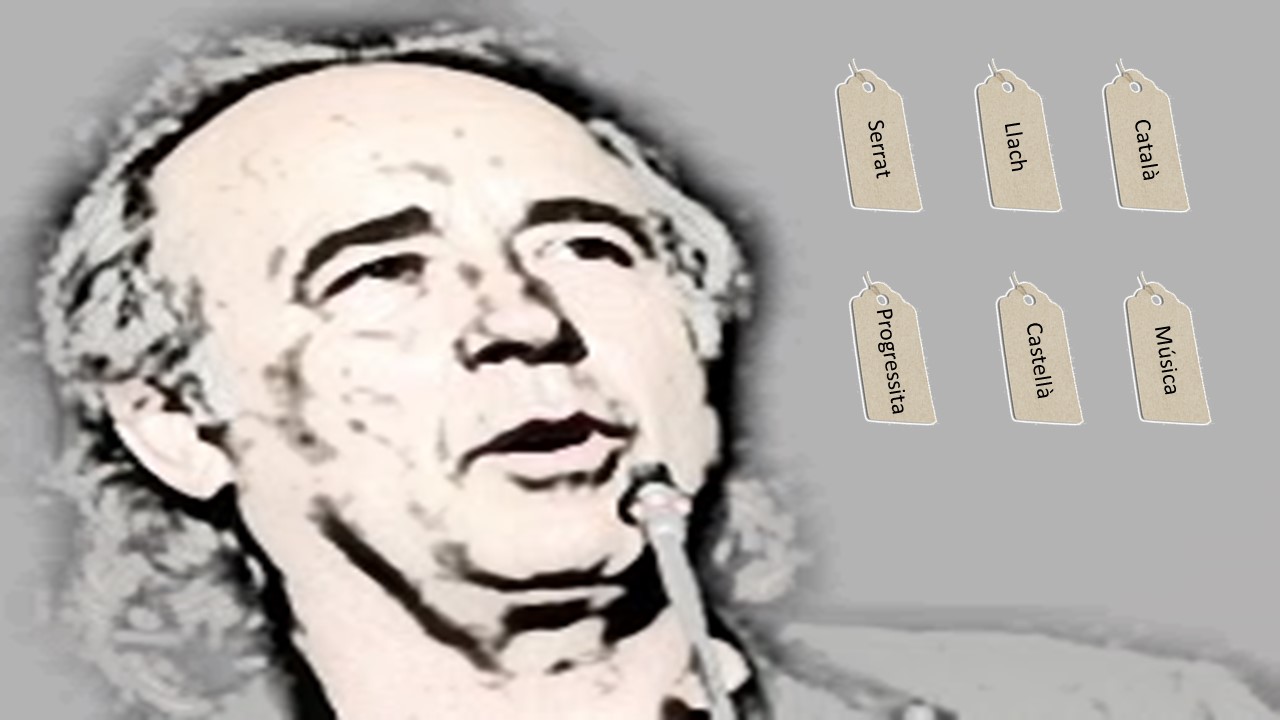 A year ago I bought the tickets to see Joan Manuel Serrat. Or Joan Manuel. Or just Serrat. At home, my father had bought a cassette and I got hooked, not listening to his songs from the beginning and in Catalan, but to those from the 1983 album, Cada loco con su tema. He moved me Sinceramente tuyo, which I listened to in the room I shared with my brother. And Cada loco con su tema amused me.
It was with the 1984 album, Serrat directo, that I became hooked on the artist. For me it is the best live album ever made in Spanish, although there were also some songs in Catalan.
The fact that a convergent, which I was, was a fan of Serrat did not quite connect with the labels that we all give ourselves based on our ideas. In fact, at that time, and talking about them with whomever, it was even reason for comment.
It seemed, and it would still seem so today, that if you were politically inclined – and I was as much a fan of Serrat as I was of Jordi Pujol – you had to link more with Lluís Llach, with the parish esplais, the Catalan encyclopedia and the Avui newspaper. , and that if you were more progressive, federalist or socialist, Serrat, El Periódico or El País and the non-denominational esplais should be the labels that should define you. And in some houses, if you recognized yourself in one singer, you couldn't do it in the other.
For some, Serrat was not the one who had given up singing in Eurovision if he couldn't do it in Catalan, but the one who had given up Catalan for Spanish to broaden his career, and I had never shared that idea. For me, that a Catalan could sing in my language and in Spanish, all over the world, would take my language to bigger stages and, therefore, this reality had to be added to the assets, and not the liabilities, of the that we want a strong Catalan language.
If my father taught me anything, it was to flee from dogmas. And the labels. To try not to judge anyone or believe that I was on the side of the good guys, and the rest were not. The fact that it was very convergent, but I liked Serrat, trying to read everything and not settle for the version that "mine" was given has been something that has accompanied me all my life. Also today.
I like Serrat, I like Llach and I like everything that is to escape from the conventions that move according to which mentalities
I liked Serrat, even when he spoke in favor of the socialists. First, because I always understood that this was what Catalonia was about, and then because time had shown me that many, many people from that country fell to one side (the PSC) or the other (CDC) depending on who had gone to listen first, and with whom. It is clear that, later, politics and the parties clearly marked the differences between the two, but it is true that, for a newcomer to democracy, being a Catalan and a progressive could make you support one party or the other, when they began to walk in those founding years.
In short, I like Serrat because I consider him an extraordinary artist, who not only sings how the world should be, but also tries to do something. It was a great gift, for example, that my friend Òscar Camps told me to share dinner with three other great figures (and above all people) when he received the medal that the Parliament of Catalonia awarded him in recognition of his cause in the Mediterranean.
When this article is published I will be about to experience his last concert in Barcelona. I am very excited to go, thank you for so much good music and show (even to myself) that we are a country that breaks the labels that are supposed to confirm that we are one way or another. I like him, I like Llach and I like everything that is to escape from the conventions that move depending on what mentality. Before they did it with labels and now they do it with algorithms. Breaking your guesswork is a defining goal of a liberal mindset.
In fact, time has been putting things that I firmly believed in suspense or has definitely denied me. And on the contrary, ideas that I thought were not good have been shown to be better than mine. There are algorithms that take you where they think you'll be most comfortable, but life, more slowly, does the same job.
If you allow me one wish for 2023, it would be that all of us are capable of seeing and acting in accordance with a single certainty: it is not worth believing that we are right or following the conventions dictated by algorithms. Living digitally will make it more difficult for us, but we must continue looking for a way to escape from the box from which it would want us captive.
Ferran Falcó, member of the Restarting Badalona Association