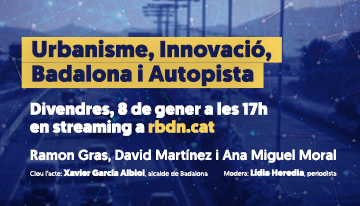 The association Restarting Badalona promotes the event 'Urbanism, innovation, Badalona and highway' on January 8 at 17h
Ramon Gras, researcher in Urbanism and Innovation at Harvard, will take part in the conference
The association Restarting Badalona begins its activity in 2021 in an event with the support of Reactivació Badalona SA, Badalona City Council and Diputació de Barcelona to discuss the potential of Badalona in terms of economic development with the urban transformation of the 'highway.
The event "Urbanism, Innovation, Badalona and Autopista" aims to put on the public agenda the need to take advantage of the transformation of the motorway to transform the productive fabric of Badalona in a context in which the Urban Master Plan of the C- 31 and the Metropolitan Mobility Master Plan propose a set of managers for its transformation, meeting the historical demands of the municipality. The aim is to reflect on how urban planning and innovation can transform cities. In this case, the Badalona motorway will be the subject of an analysis from which the speakers will explain international and local experiences of cities that have transformed their urban, social and economic fabric, redefining their potential.
The event will be attended by Ramon Gras, a researcher in Urbanism and Innovation at Harvard who has been able to specialize academically in the study of urban transformations and their impact on American and European cities. In addition, there will be the presence of two members of Restarting Badalona who have an outstanding career in this field. Specifically with David Martínez, architect and manager of the Municipal Institute of Urbanism of Barcelona and Ana Miguel Moral, specialist consultant in digital transformation and sustainability in the urban field.
The event, moderated by journalist Lídia Heredia, will be broadcast on Youtube from the Badalona International Business Center on Friday 8 January from 5 pm. The questions can be sent to the speakers through the own broadcast on Youtube.
The Mayor of Badalona, ​​Xavier Garcia Albiol, will close the event at 6.30 pm.
Speaking biographies: